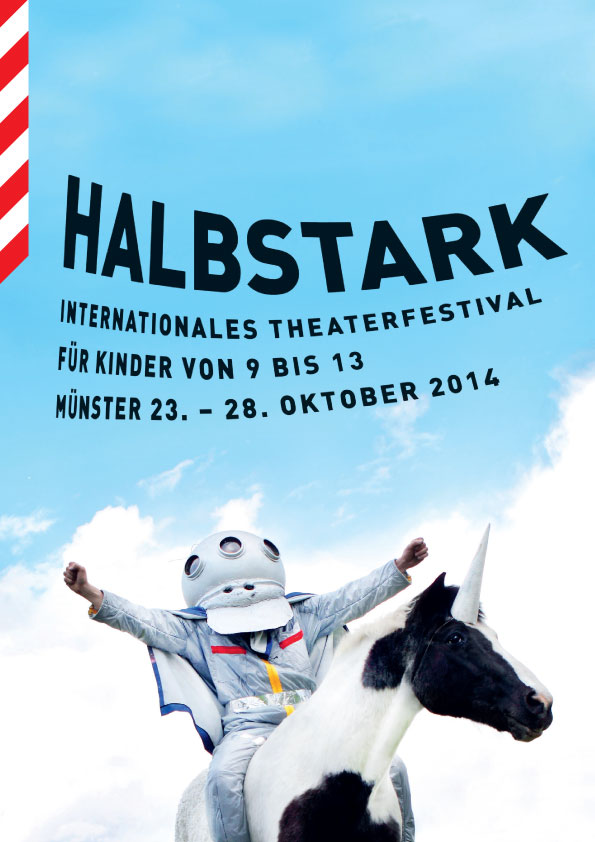 From October 23 to October 28, 2014, 16 exceptional theatre pieces from Germany, Belgium, the Netherlands, Austria, Slovenia, Switzerland and Italy are shown in Münster and its surrounding region. Whether a play, dance theatre, music theatre, or object theatre: All of the performances deal very closely with the issues and thoughts of their young viewers.
HALBSTARK is a festival for the entire region: This year's venues are the Theater Münster, Theater in der Meerwiese, Theater im Pumpenhaus, Erlöserkirche, Stroetmanns Fabrik in Emsdetten, Vischering Castle in Lüdinghausen, Westmünsterlandhalle Heiden as well as classrooms and school auditoriums in Münster and the Münsterland region. We are looking forward to welcome festival guests from the cities and communities in the surrounding regions.
The theme of this year's festival are the "inner spaces", the personal worlds of 9- to 13-year-olds. Who am I? Where and what are my feelings? What knowledge, dreams, desires and visions of the future do I have? Do others have these too? And how can I express these thoughts and feelings?
The kids participate with cameo-appearances, exhibitions and blog entries. Cultural professionals, theatre-makers and the public will join each other at round-tables and theatre discussions for creative, cross-border dialogues.
After many months of planning and anticipation we wish you and ourselves a great festival.