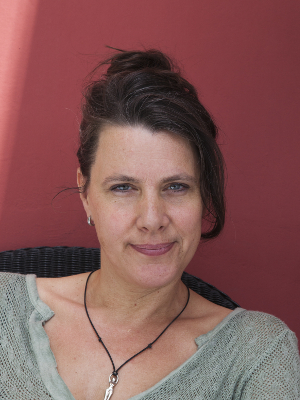 Silvia Andringa
"Sometimes I feel like my head is clogged up. That's why I make up stories which I can fill with my darkest thoughts so that they can be warmed by the sun and then evaporate."
I am talking to my ten-year-old niece about what she does, what she thinks and how she feels when she is alone in her room. A few days later I get a text with a drawing. A yellow sun, half hidden behind a blue cloud, floats over the words. Surrounding the text is a fog made out of grey drops of water. "You can't see it, but it is in fact meant to be cheerful", she says. I understand.
I have to think about the productions that we will be showing in this year's festival. They have a similar magical and exciting mixture of tragedy and vitality. We are going to see falling angels, searching humans and dancing children. Fairy-tale romance, small, intimate rooms, fierce conflicts, gaudy theatricality, secret longings and harsh stories from the streets. All this created entirely by artists and children who have gone searching for their "inner spaces".
What are you thinking, what are you feeling, how many questions live in you and, above all: where do you feel at home? Topics which have ended up in powerful performances, made for a public that finds itself in motion between childhood and youth: kids. They are even more visible than in than in previous editions of Halbstark: as strong and creative artists, participants, spectators, bloggers, musicians, talents and performers. We make theatre with them, for them and about them. And for all the grown-ups who feel connected to them and the artists. I wish for all of you that this festival opens your minds, and allows any dark thoughts to warm up and evaporate.