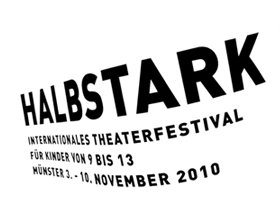 Bubble Boy - Het Lab Utrecht (NL)
The story of Bubble Boy is based on real events. 12-year-old Tom has SCID, an immune-mediated disease. He has spent his whole life in a plastic bubble, without ever being allowed to come out of the bubble, because any contact with another person would be deadly for him. Until today! A cure will be found and the audience can follow the operation that will give Tom a life outside the bubble. The audience will join Tom's doctors, his mother and sister for this experience. The children in the audience will be able to get to know Tom after the operation, see his first steps in the real world and play with him.

Bubble Boy is a theatre performance that skilfully moves between fiction and reality.
The motto of the Dutch Het Lab Utrecht is: You have to experience theatre! First and foremost Het Lab gives young directors and actors the opportunity to create theatre and dance for young audiences and organises discussions, meetings and workshops in order to establish new theatrical forms.
Play (10+)
Running time: 75 minutes
Direction: Lucas De Man, Cast: Griet Dobbelaere, Anne Harbers, Camilla Meurer, Bram Graafland, Alex Moret et al, Production: Alexander Schreuder, Set Design: Pascal Leboucq, Tamar Dinder, Technical: Kas van Huisstede, Dave Staring, Tour Management: Joost Allema
Dates
Sunday, 07.11.2010, 15.00


Begegnungszentrum Meerwiese, Saloon

Monday, 08.11.2010, 10.30


Begegnungszentrum Meerwiese, Saloon
For this article we can offer you the following links:
The following tags are attributed to this article: