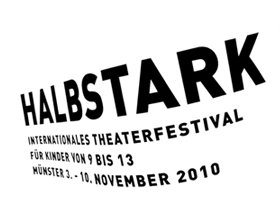 HALBSTARK
International Theatre Festival for 9 to 13 Year Olds
From 3 to 10 November 2010 the Kulturamt der Stadt Muenster and the Staedtische Buehnen, along with the NRW KULTURsekretariat, will present the first HALBSTARK festival. With its exciting and spectacular productions this new theatre festival is aimed at children and teenagers between the ages of 9 and 13. Under the artistic direction of Dutch director Silvia Andringa, it will present productions from Germany, the Netherlands, Belgium and Denmark.

9 to 13 year olds are affectionately called 'Halbstarke' (meaning teenagers, or literally 'half-strongs'). They are bubbling over with strength and energy, want to be young adults and stand directly on the threshold between childhood and youth. HALBSTARK takes their ideas, wishes and dreams as its focus. The festival sets out on an exciting journey to discover how the (theatrical) arts view these children and what perspectives the 'halbstarke' have about life.
Be it play, dance- or musical theatre, the eleven national and international productions selected reflect the themes and dreams of their audience. The stories are about the true and untrue, the funny and the sad, the philosophical and the entertaining. And they are often also about the development of the self. 9-13 year olds themselves also play an important role in HALBSTARK. They reveal their ideas and talents in small performances and presentations, present themselves and their worlds in photography exhibitions and will be mentored by the theatre companies before the start of the festival. Personal exchange between the children and the artists is part of the concept.
But it's not just young theatregoers who will get their money's worth. Theatre professionals and cultural players from the region and the neighbouring states will become involved in an exciting dialogue about theatre for young people and invite interested colleagues to theatre discussions and presentations. The NRW KULTURsekretariat, in collaboration with the festival, will offer venues in North Rhine-Westphalia subsidised terms for selected foreign festival productions. More information will be available for interested parties at the festival.