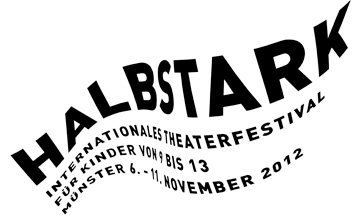 Verschwunden (Missing) - Junges Theater Münster (D)
Verschwunden is an exciting and multi-faceted thriller about two people whom life is very tough on. And it also examines the strength, the courage and the affection of two siblings, who are the only reliable people in each others lives.
Their lives change in an instant when their mother dies. A stepmother comes into their lives and now the siblings must stick together even more. Hans can't go to school anymore and has to work to be able to give his sister more of a life. He even steals for her. Grete has learned to smile continuosly, so that no one sees how sad she really is. When their father loses his job one day, their step-mother sees her hopes of a better life dwindle away. But she's not stupid and has soon come up with a new plan: her cousin is going to kidnap Grete and they will share the ransom money.

Charles Way manages to interweave the famous fairytale of Hansel and Gretel into the plot while primarily telling his own story. He received the Kindertheaterpreis 2010 for his 'brave and extraordinary play'.

Director Kristo Šagor has received numerous awards, including the Theaterpreis DER FAUST. He represented Germany in the European Festival of Young Dramatists in Warsaw and in the World Festival of Young Playwrights – World Interplay in Townsville.

Play by Charles Way (10+)
Running time: circa 90 minutes
Staging: Kristo Šagor, cast: Manuel Herwig , Annrei Laufkötter, Christiane Nothofer, Uwe Topmann, stage design and costume: Iris Kraft, music: Coordt Linke, dramaturgy: Julia Dina Heße

Date
Thursday, 8.11.2012, 19.00
Theater Münster, Kleines Haus (premiere)
Followed by the premier party in the Theatertreff
Further performances will follow the festival in the Theater Münster.
The following tags are attributed to this article: