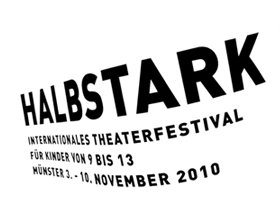 Blog
This is where we ask for your opinion: what do you think about HALBSTARK? Which plays have you seen? Which of the performances did you like? Everything is up for discussion here!
We want to know what you think about HALBSTARK. Send us an email for our blog by writing to halbstark-muenster@gmx.de. Or come to the VHS Children's Editorial Office/Media Lounge in the Kleines Haus of the Staedtische Buehnen and write us a postcard.

Afterwards you'll find your impressions and those of our festival visitors on our blog.


ICQ HALBSTARK

Do you use ICQ? Then send us your impressions at 'Halbstark'. The ICQ number is 604293510.
Enter this number if you want to be added as a new contact.